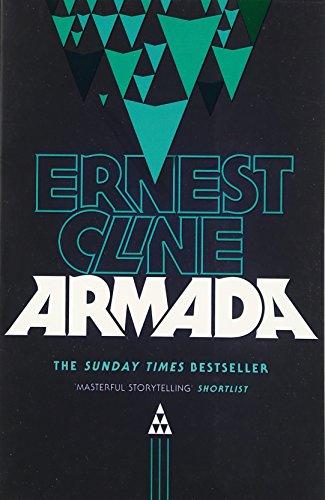 Title:
Armada - Ernest Cline
Published by:
Crown Publishing
Release Date:
14-6-2015
Genre:
Fantasy
Pages:
349
ISBN13:
9780804137256
Zack Lightman has spent his life dreaming. Dreaming that the real world could be a little more like the countless science-fiction books, movies, and videogames he's spent his life consuming. Dreaming that one day, some fantastic, world-altering event will shatter the monotony of his humdrum existence and whisk him off on some grand space-faring adventure.

But hey, there's nothing wrong with a little escapism, right? After all, Zack tells himself, he knows the difference between fantasy and reality. He knows that here in the real world, aimless teenage gamers with anger issues don't get chosen to save the universe.

And then he sees the flying saucer.
Add on Goodreads
I blinked and looked again—but it was still out there, a shiny chrome disc zigzagging around in the sky. My eyes struggled to track the object through a series of increasingly fast, impossibly sharp turns that would have juiced a human being, had there been any aboard. The disc streaked toward the distant horizon, then came to an instantaneous stop just above it. It hovered there motionless over the distant tree line for a few seconds, as if scanning the area beneath it with an invisible beam, before it abruptly launched itself skyward again, making another series of physics-defying changes to its course and speed.
I tried to keep my cool. I tried to remain skeptical. I reminded myself that I was a man of science, even if I did usually get a C in it.
I looked at it again. I still couldn't tell what it was, but I knew what it wasn't—it wasn't a meteor. Or a weather balloon, or swamp gas, or ball lightning. No, the unidentified flying object I was staring at with my own two eyes was most definitely not of this earth.
My first thought was: Holy fucking shit.
Followed immediately by: I can't believe it's finally happening.
You see, ever since the first day of kindergarten, I had been hoping and waiting for some mind-blowingly fantastic, world-altering event to finally shatter the endless monotony of my public education. I had spent hundreds of hours gazing out at the calm, conquered suburban landscape surrounding my school, silently yearning for the outbreak of a zombie apocalypse, a freak accident that would give me super powers, or perhaps the sudden appearance of a band of time-traveling kleptomaniac dwarves.
I would estimate that approximately one-third of these dark daydreams of mine had involved the unexpected arrival of beings from another world.
Of course, I'd never believed it would really happen. Even if alien visitors did decide to drop by this utterly insignificant little blue-green planet, no self-respecting extraterrestrial would ever pick my hometown of Beaverton, Oregon—aka Yawnsville, USA—as their point of first contact. Not unless their plan was to destroy our civilization by wiping out our least interesting locales first. If there was a bright center to the universe, I was on the planet it was farthest from. Please pass the blue milk, Aunt Beru.
But now something miraculous was happening here—it was still happening, right now! There was a goddamn flying saucer out there. I was staring right at it.
And I was pretty sure it was getting closer.