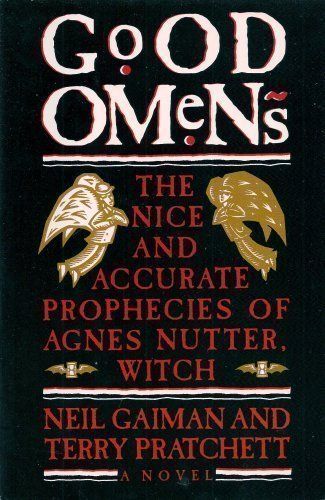 Title:
Good Omens - Terry Pratchett / Neil Gaiman
Published by:
HarperTorch
Release Date:
1-5-1990
Genre:
Fantasy
Pages:
430
ISBN13:
9780060853983
According to The Nice and Accurate Prophecies of Agnes Nutter, Witch (the world's only completely accurate book of prophecies, written in 1655, before she exploded), the world will end on a Saturday. Next Saturday, in fact. Just before dinner.

So the armies of Good and Evil are amassing, Atlantis is rising, frogs are falling, tempers are flaring. Everything appears to be going according to Divine Plan. Except a somewhat fussy angel and a fast-living demon—both of whom have lived amongst Earth's mortals since The Beginning and have grown rather fond of the lifestyle—are not actually looking forward to the coming Rapture.

And someone seems to have misplaced the Antichrist . . .
Add on Goodreads
It was a nice day.
All the days had been nice. There had been rather more than seven of them so far, and rain hadn't been invented yet. But clouds massing east of Eden suggested that the first thunderstorm was on its way, and it was going to be a big one.
The angel of the Eastern Gate put his wings over his head to shield himself from the first drops.
"I'm sorry," he said politely. "What was it you were saying?"
"I said, that one went down like a lead balloon," said the serpent.
"Oh. Yes," said the angel, whose name was Aziraphale.
"I think it was a bit of an overreaction, to be honest," said the serpent. "I mean, first offense and everything. I can't see what's so bad about knowing the difference between good and evil, anyway."
"It must be bad," reasoned Aziraphale, in the slightly concerned tones of one who can't see it either, and is worrying about it, "otherwise you wouldn't have been involved."
"They just said, Get up there and make some trouble," said the serpent, whose name was Crawly, although he was thinking of changing it now. Crawly, he'd decided, was not hint
"Yes, but you're a demon. I'm not sure if it's actually possible for you to do good," said Aziraphale. "It's down to your basic, you know, nature. Nothing personal, you understand."
"You've got to admit it's a bit of a pantomime, though," said Crawly. "I mean, pointing out the Tree and saying 'Don't Touch' in big letters. Not very subtle, is it? I mean, why not put it on top of a high mountain or a long way off? Makes you wonder what He's really planning."