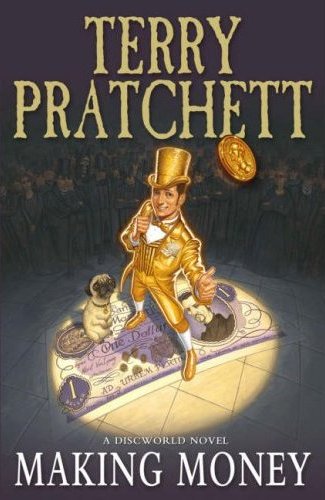 Title:
Making Money
Series:
Discworld #

36
Published by:
Harper
Release Date:
18-9-2007
Genre:
Fantasy
Pages:
393
ISBN13:
9780061161643
It's an offer you can't refuse.

Who would not to wish to be the man in charge of Ankh-Morpork's Royal Mint and the bank next door?

It's a job for life. But, as former con-man Moist von Lipwig is learning, the life is not necessarily for long.

The Chief Cashier is almost certainly a vampire. There's something nameless in the cellar (and the cellar itself is pretty nameless), it turns out that the Royal Mint runs at a loss. A 300 year old wizard is after his girlfriend, he's about to be exposed as a fraud, but the Assassins Guild might get him first. In fact lot of people want him dead

Oh. And every day he has to take the Chairman for walkies.

Everywhere he looks he's making enemies.

What he should be doing is . . . Making Money!
Add on Goodreads
Also in this series:
THEY LAY IN THE DARK, guarding. There was no way of measuring the passage of time, nor any inclination to measure it. There was a time when they had not been here, and there would be a time, presumably, when they would, once more, not be here. They would be somewhere else. This time in between was immaterial.
But some had shattered and some, the younger ones, had gone silent.
The weight was increasing.
Something must be done.
One of them raised his mind in song.
It was a hard bargain, but hard on whom? That was the question. And Mr Blister the lawyer wasn't getting an answer. He would have liked an answer. When parties are interested in unprepossessing land, it might pay for smaller parties to buy up any neighbouring plots, just in case the party of the first part had heard something, possibly at a party.
But it was hard to see what there was to know.
He gave the woman on the other side of his desk a suitably concerned smile.
'You understand, Miss Dearheart, that this area is subject to dwarf mining law? That means all metals and metal ore are owned by the Low King of the dwarfs. You will have to pay him a considerable royalty on any that you remove. Not that there will be any, I'm bound to say. It is said to be sand and silt all the way down, and apparently it is a very long way down.'
He waited for any kind of reaction from the woman opposite, but she just stared at him. Blue smoke from her cigarette spiralled towards the office ceiling.
'Then there is the matter of antiquities,' said the lawyer, watching as much of her expression as could be seen through the haze. 'The Low King has decreed that all jewellery, armour, ancient items classified as Devices, weaponry, pots, scrolls or bones extracted by you from the land in question will also be subject to a tax or confiscation.'
Miss Dearheart paused as if to compare the litany against an internal list, stubbed out her cigarette and said: 'Is there any reason to believe that there are any of these things there?'
'None whatsoever,' said the lawyer, with a wry smile. 'Everyone knows that we are dealing with a barren waste, but the King is insuring against "what everyone knows" being wrong. It so often is.'
'He is asking a lot of money for a very short lease!'